Free Demo Version: Take a sneak peak at the fully featured product for archiving Outlook PST file with zero effort to make backup of valued Microsoft Outlook PST file. Freely 1 month trail to get live experience of the product.
Unique Features of this Outlook Archival Software

Wide Archive Frequency Range
Archiving is done by setting frequency range; it varies from 1 day, 1 week, 30, 45, 60 days, 3 month, 6 month, 9 month & 1year. Elect the range only by this outlook emails PST tool & make frequent store of archived MS Outlook emails.

Bulk Outlook Emails Archival
Save bulk emails frequently & precisely, multiple MS Outlook PST files are archived at a single click. Automatic archiving according to fixed range leads to less effort for backup & collect multiple PST is a handy work.

Auto Resume Utility
Users can easily Pause, Resume, On & Off the archiving process. Keep the backup of all Outlook mailbox content, Outlook PST items and Outlook email files in an integral & coherent manner. So don't be scared to pause or stop Archiving process.

User Defined Destination
Archive Outlook PST files according to user defined destination folder/drive to inhibit the corruption caused by saving archive to same folder of PST. A prompt appears while destination is set by Outlook emails backup tool.

Flexible Search Option
Several search criteria are set to Outlook archive files like: search by name, by date, by location, by size & by type. Outlook emails Archival tool eliminates the efforts made to search form archived/saved Outlook PST file.

All Rounder Backup
Completely make backup of outlook mailbox items like: sent items, inbox, drafts & deleted folder accurately & automatically. MS Outlook data files and Outlook Personal folders are stored to exact location in archived Outlook PST files.

Retrieval Option Visibility
Outlook email archival tool avails a plug-in at Microsoft Outlook profile. So save Outlook PST files by clicking on the tool bar & agile search option is available to retrieve the MS Outlook PST form Archive Outlook PST file.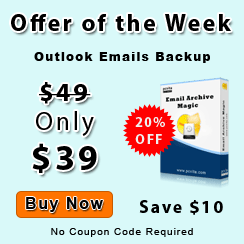 Our Outlook Management Tool Kit:


24x7 Support
Simple solution to all problems oriented with archive Outlook PST tool, is in your hand

Smart Investment: Purchase cost effective & best Archiving tool at nominal price of $49 to get better Backup scheme. Don't hesitate to make good investment for great software Archive Outlook PST tool & 24 hr support utility is available for end user.