Free to Use: Freely download the trial version of GroupWise Contacts Converter to experience the real time functions of the NAB Converter tool. Utilize the free utility for a confident purchase and 15 items per folder conversion. Hurry Up! Get live experience.
Striking Feature Description of GroupWise Contacts Converter:

Export to Default Outlook Profile
GroupWise contacts converter forwards all NAB contacts to Default Outlook Profile i.e. sync with already existing PST file. It gives a default preview in pre configured Outlook Profile; now easily convert GroupWise to PST file.

Export to Outlook PST File
Directly shift from GroupWise to PST, GroupWise to PST contacts converter tool creates a new PST file while shifting Novell Address Book. User can import that individual MS Outlook PST. Create new PST by GroupWise to PST converter utility.

GroupWise to Exchange Server
GroupWise contacts converter converts Novell address book to Outlook PST. Import this converted Outlook PST into Exchange Server via eXmerge (free utility by Microsoft). Get 24 hr support to convert GroupWise to Exchange Server.

Export to vCard Contacts
Get the superior functionality of vCard only by GroupWise contacts converter program. Covert GroupWise contacts to VCF format and import the universal VCF file to device: iPhone, blackberry, iPod, iTunes, nokia, phone, palm, htc, Samsung etc, Macbook, Macmail, Outlook Express, Thunderbird, Windows Mail, Windows Live Mail, Windows Address Book, Zimbra, Salesforce, Gmail, Yahoo Mail, Windows Live.

Precise Group Contacts Conversion
Distribution lists are reserved while GroupWise to PST conversion takes place. All group contacts in GroupWise are precisely transferred to PST and relative distribution lists are maintained in converting GroupWise to PST file.

Reserved Metadata Details
Accurately uploads complete contacts information, zero redundant shift of Novell Address book to Outlook address book. Excellently convert GroupWise contacts to PST by using GroupWise contacts converter. Meta data info like image, multiple email id, contacts, category & specific details are preserved.

Diversity in vCard Versions
Multiple versions of vCard like: vCard 2.1 and vCard 3.0 are automatically supported. MS Outlook ANSI & Unicode format are seamlessly supported. Don't be scared to convert GroupWise to PST. vCard format is the universal format.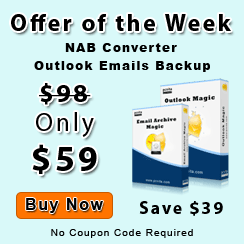 Our Outlook Management Tool Kit:


24x7 Support
 Get round the clock technical support while converting GroupWise contacts to PST & VCF.

Order Now: get the whole GroupWise utility in your arms, right now purchase NAB, Novell Address Book converter tool to convert GroupWise to PST at nominal price of $49. Get Online Support for sure & secure Novell address book conversion to MS Outlook PST.