Take a Test Drive: Right now take a free trial version of the Microsoft Outlook PST Converter for a guaranteed purchase. Feel the power of the product & become sure for good investment. Freely convert 15 items per folder.
Temptations! Outlook PST Converter Specifications:

7 Formats Versatile Conversion
Use the high end utility by converting Microsoft Office Outlook PST to EML, MSG, VCF, TXT, RTF, MHT, HTML, DOC and DOCX file formats. MS Outlook PST converter allows numerous format conversion & delivers all rounder performance.

Enriched Email Conversion
Skillfully convert PST file to non- PST format in integral manner. Utilize the strong utility of PST converter software to convert Outlook PST file emails into universal format of EML. Covert mailbox files items like sent items, inbox, outbox, drafts, and deleted box etc continently.

Protected Contacts Transfer
Its risk free conversion of multiple valued contacts to universal format VCF & vCard out of email files. Seamlessly and securely shift personal contacts folder files to universally running contacts while data integrity is preserved although.

Schedule the Meetings! Export Calendars
Don't hesitate about synchronization with business entities. Easy calendar export to any other utility format from MS Outlook PST format to ICS format. Simple procedure for calendar migration & connect the world. Now sync is in your hand by exporting Calenders.

Be Updated via Task Conversion
Its prerequisite for technical change is to move the tasks according to your utility. Use PST converter software for converting tasks form PST to non-PST format of VCS. Shift the Outlook tasks to any other mail client & be more responsive.

Selective Bulk Migrations
Agilely select either emails/contacts/calendars/tasks one by one from MS Outlook before conversion to other format of EML, MSG, VCF, TXT, RTF, MHT, HTML, DOC and DOCX  or any combination of thereof, which enables multiple PST files, batch or bulk transfer.

Automated Search Aid
Enhanced search support for is availed for end user convenience to find the MS Outlook PST data files or PST archive file for conversion. Efficient Backup file of PST are also retrieved via this option. Flexible serach option overcomes the problem during Outlook backup done earlier.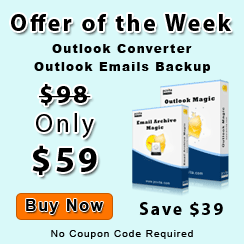 Our Outlook Management Tool Kit:


24x7 Support
To rule out all the problems during Outlook PST conversions are handled explicitly here.

Product Pricing: Only this Outlook PST converter performs hassle free bulk conversion form PST Format to non-PST format. To improve the conversion process for effective results, just buy MS Outlook PST converter only at $49. Technical Online support is available for superior assistance.