To know how to export a vCard from Outlook 2003 contacts, the steps are given below:
See your contact list and point that contacts which you want to export as shown here:




Open that contact by hitting double click. The contact will get open as listed here:




Point to Menu » Export to vCard File option as shown below:




Browse the location to save your vCard file as shown below:




Fill the name and click the Save button. Your contacts will save as vCard file format. Explore the selected saving location to view the saved vCard files as shown below:


The process export a vCard from Outlook 2003 one by one using MS Outlook 'Export a vCard File' add-on is not wise selection whenever you have no of contacts. Using manual process, you are wasting your precious time and effort. We PCVITA always try to save the time and effort in minimum amount. For such stream, we provide you an efficient vCard converter software which will minimize your time, effort and cost. Software will not only export multiple vCard from Outlook 2003 but also import multiple vCard into your Outlook 2003 application. Give a try to us and take sigh of relief from manual process.
-:: Some Useful Sites/Directories ::-
vCard Converter - Best tool with classic features and unmatched results is now available for you to export multiple contacts from Outlook to vCard files and vCard to Outlook address book. The benefits that you will get with vCard converter while to convert is Outlook to vCard are countless as vCard format is supportive to all the application and if your need is to convert vCard to Outlook same vCard converter will play the significant role in that.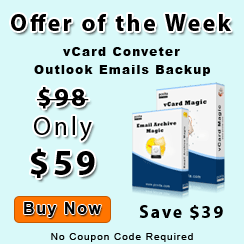 Our Outlook Management Tool Kit:

Convert GroupWise to PST

Convert Outlook PST File

Merge Outlook PST File

Archive Outlook PST File