Open your MS Outlook application (type 'outlook.exe' in run), you will see your default screen:




Click the contacts option as shown above in the red marked area. You will see your all Outlook contacts list as shown below:




Double click on the contact that you need to export. The contact will get open as shown below:




Click on the Menu » Save As » Export to vCard File option as shown below:




After clicking the Export to vCard file, select the location to save the vCard file as shown below:




Provide the name of vCard file and click the Save button, your contacts will save as vCard file format. Navigate the selected saving location to view the saved vCard files as shown below:




If you are an Outlook 2010 user and has the long contact lists then manually exporting or importing of Outlook contacts is not fruitful for you. For bulk exporting of vCards from Outlook 2010, our widely used vCard converter software will become piece-of-cake. Once you installed the software, you have to follow just 2 easy steps and your all vCard of MS Outlook 2010 or other will export into single time.
-:: Some Useful Sites/Directories ::-
vCard Converter - To make things easy and smooth there are many options available but to make thing easy with quality to convert vCard contacts from Outlook to vCard or from vCard to Outlook file is only possible with vCard converter software of PCVITA which is vCard Magic. This vCard converter can export contacts in batches between Outlook and vCard file.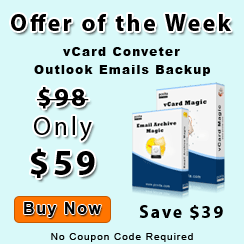 Our Outlook Management Tool Kit:

Convert GroupWise to PST

Convert Outlook PST File

Merge Outlook PST File

Archive Outlook PST File