For that,
vCard export
tool will prove piece-of-cake for you as this software can solve your following queries of MS Outlook:
How to Export Outlook 2010 contacts to Gmail contacts?
How to Export Outlook 2007 contacts to Gmail contacts?
How to Export Outlook 2003 contacts to Gmail contacts?
How to Export Outlook 2002 contacts to Gmail contacts?
If you also have the same problem, then feel the good with this good tool. You have to just follow the 2 easy step to know about how to export Outlook contacts to gmail contacts. The steps are given below:
Export Outlook Contacts to vCard: An efficient vCard converter software which will do the first step. This software will export Outlook contacts to vCard in batch.
Import vCard to Gmail Contacts: After accomplishing the first steps, you need to import vCard to Gmail contacts. For that, you have to go the following link and follow the steps:
http://mail.google.com/support/bin/answer.py?hl=en&answer=183711
Note - If you have decided for following these steps and using our vCard converter software or heaving the any query about the software then you can take the free online chat support as well as email (support@pcvita.com).
-:: Some Useful Sites/Directories ::-
vCard Converter - There are situations when people need to convert vCard from Outlook contacts and other is when they need to export vCard from Outlook files. Our vCard converter provides you a single platform to fulfill all these needs on single click. You can convert multiple vCard from Outlook and vice versa in few clicks with this vCard converter software. To create a backup of vCard or Outlook contacts, it is most preferred choice.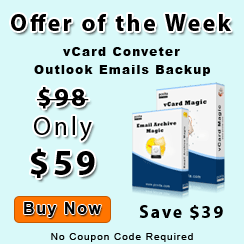 Our Outlook Management Tool Kit:

Convert GroupWise to PST

Convert Outlook PST File

Merge Outlook PST File

Archive Outlook PST File