Palm or say Palm tops just like Smart phones saves their contacts in vCard format and we are providing you certain
export vCard
key steps to insert more and more contacts from Outlook contacts to this Palm PDA. You can get answers for every query like:
How to export Outlook 2010 contacts to Palm Contacts?
How to export Outlook 2007 contacts to Palm Contacts?
How to export Outlook 2003 contacts to Palm Contacts?
How to export Outlook 2002 contacts to Palm Contacts?
As Palm tops and smart phones are gaining their popularity everyday and side by side the need and users query about how to export Outlook contacts to Palm OS mobile phone also rising. So, track out the following easy and compulsory steps and get you contacts exported.
Export Outlook contacts to vCard Files: Start with exporting your Outlook contacts to vCard file format those Palm OS smart phones contacts supports with vCard converter software to accomplish task in bulk.
Import vCard files to Palm Contacts List: Now you can smoothly import these vCard files into your Palm PDA phones with the help of link as follows:
http://www.askdavetaylor.com/how_do_i_transfer_palm_contacts_to_address_book.html
Note - For minimizing the users effort and trouble, we PCVITA give 24*7 online chat support as well as email (support@pcvita.com) regarding any queries.
-:: Some Useful Sites/Directories ::-
vCard Converter -When any enterprise user whether large or small traps into convert vCard from Outlook and needed more security and features for its contact to convert from Outlook to vCard or vCard to outlook, it called vCard Converter  software that is PCVITA vCard Magic. To make it more simple and convenient to convert contacts our software is the only tool that give unparallel quality for batch conversion.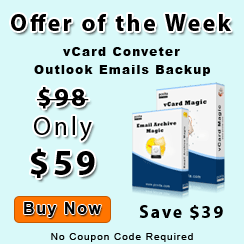 Our Outlook Management Tool Kit:

Convert GroupWise to PST

Convert Outlook PST File

Merge Outlook PST File

Archive Outlook PST File