PCVITA aim - Bridge the gap between home and enterprise users also comes here and gives you importing a vcard to any Outlook version guidelines in smooth ans simple way.
Match the you need and go ahead for importing process. Here, you will see the step by step process of import vCard to Outlook through screenshots. PCVITA also gives you 24*7 support for all users if they have any query. After selecting the your query, you have to visits the related links and just follow the 3-4 steps for importing a vCard into Outlook 2010, 2007 & 2003.
Micrsoft Outlook gives you well designed option for importing a vCard files into Outlook but whenever you have multiple vCard contacts and want to import them into MS Outlook then manuall option for importing a vCard into Outlook becomes fail for you. We know that you will require for a bulk vCard import mathod or application at this time.
PCVITA gives you vCard converter software to carry out bulk importing or multiple vCard files or bulk exporting of multiple Outlook contacts at a time. You can say "The vCard Magic is time and effort saviour software in corporate sector as well as home user". The tool has lots of features which are listed in website home page. If you are interested in vCard converter software then download free demo version for evaluation and full version for complete vCard import export.
-:: Some Useful Sites/Directories ::-
vCard Converter
- What is your actual need? Convert vCard from Outlook or to convert Outlook from vCard. Both these can be easily achieved by our
vCard converter
software that is same software can convert vCard to Outlook contacts as well as vCard to Outlook contacts. Apart from this vCard convert can convert contacts in bulk from Outlook to vCard file and vice versa. Software individually creates a vCard for every single contact in Outlook address book.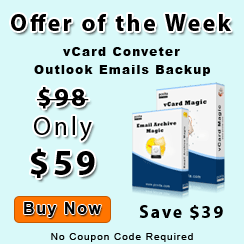 Our Outlook Management Tool Kit:

Convert GroupWise to PST

Convert Outlook PST File

Merge Outlook PST File

Archive Outlook PST File