Free Utility: Gain live experience by using the downloading the FREE trial version & feel the duo power of merging/splitting under a single click. With demo, Merge/Split first 50 items from MS Outlook PST file. Also get free Cheat Sheets for improved performance.
Why to Opt for This Merge PST Software?

Merge and Split – Dual Utility!
Combine multiple Outlook PST file into one large single PST for fast management & also Split the heavy bulked Outlook PST into various Outlook PST. Splitting is done by setting a date range & then append by using PST merge tool.

Merge Multiple PST Files – Diffused gets fused!
Uniting the numerous tiny fragmented Outlook PST files to one big Outlook PST file is done by PST merge tool.  Either merge 2 PST files or merge multiple PST files; attach all Outlook PST file by PST merge software.

Effortless Duplicate Management!
All the duplicate mails are automatically eliminated only a single copy of all duplicate mails is kept while merging 2 or multiple Outlook PST files. Easy to join duplicate MS Outlook PST file by merge PST software. 

Split Only – Trim down Bulk!
Set a split range (25 years) to cut oversized Outlook PST file. Option to Split initial PST where a single merged PST is created of specified year range & Split Yearly PST yields yearly PST files of Specific range is availed only by merge PST software.  

All Rounder Performance!
Merge 2 or multiple PST file like emails, contacts, journals, to-do lists, appointments, distribution lists, address books & also option to combine data file, archive file, personal folder files, backup file and mailbox files via merge multiple PST tool.

Personal/Default Folder Mapping!
Merge PST software avails to map personal folders accurately with corresponding names and all the default folder/PST items like inbox, outbox, deleted, sent and drafts folder are mapped during multiple merge of Outlook PST files.

Overview- Difference & Comparison Sheets!
The complicated/large attachments/encrypted files if not appended then their list is shown in Difference/ Comparison sheet. Check the remaining PST file to merge & merge these multiple PST or 2 PST file by PST merge software.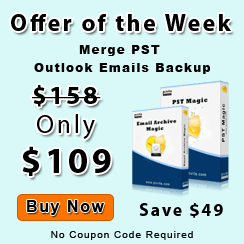 Our Outlook Management Tool Kit:


24x7 Support
Encounter all problems with advanced technical support while merging multiple PST files.