Outlook to vCard software is free for all Outlook users & developer. To check features of Outlook to vCard download FREE trial version that easily convert your 5 items at once.
Some Key Feature to migrate Outlook contacts to vCard:
Software can easily Outlook migrate contacts in batch within a single shot
It supports all format of vCard 2.1 & 3.0
Migrate all the contacts form MS Outlook 2010 (32-bit), 2007, 2003, 2002 (XP) and 2000
Migrate all the information from vCard with all contact fields such as: Name, Address, Email, Telephone, Images & Photos, Website etc
Software runs successfully is compatible with Windows 98, 2002,2003 XP, Vista, 7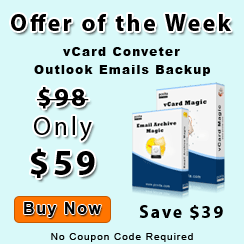 Special Offers in vCard Magic Software which you can simply enjoy into titular price value. So come first to grab this excusive Software. Purchase this Outlook to vCard only in 49 USD.