You can measure the scalability of the above thought by trying out our demo version which will allow you to convert only 5 vCards to Outlook contacts.
How to Convert vCard to Outlook Contacts?
vCard to outlook contacts converter software is simple and easy to understand, and can convert vCard to outlook contacts swiftly without any technical glitches or software inconsistencies. With this utility software, you can run a hefty bunch of contacts and easily convert vCard to Outlook contacts without fail every time, and time and again relentlessly. It saves you both time and effort, and is really cost-efficient and pocket friendly.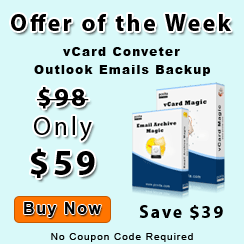 You can get value for money by purchasing the license at a bare minimum cost of $49 which will convert thousands of vCards to Outlook contacts. As part of our sales policies, the software comes with a 30-day money back guarantee, and also we will be glad to solicit all your queries 24x7.